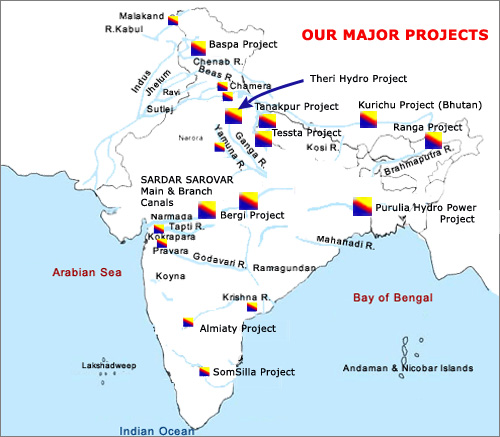 Some of the major projects Where Our Water Level Indicating Equipment are Supplied are as under:
(1) Purulia Pump Storage Project, West Bengal : Year 2007.
Measurement of Water Level of Upper Dam and Lower Dam and transferring through Fiber Optic Cable to Switch Yard Control Room at distance of 9 KM and connecting to Turbine Control PLC.
(2) Tehri Hydro Development Corporation , Tehri , Uttranchal.
120 meter Measurment of Water Level for the Reservoir and Displaying in Remote Control Room with RS232 output along with Datalogger with hard copy on Paper.

(3) Kurichu Hydro Electric Project, Bhutan. Year 1998 – 2000.
Measurement of Water level for Dam Upstream, Tail Race Level and Displaying at Dam Control Room and transmission to Remote Display in Power House Control Room on 90 mm large display.

(4) Baspa HEP, Himachal Pradesh in the year 2000.

(5) ALLMITY Dam , Karnataka in the year 2002.


(6) Ranganadi Hydro Electric Project , Arunachal in year 1998.
Measurement for Water Level for the Diversion Dam and Displaying in Dam Control Room with output signal of 0 to 10 VDC.

(7) Bisinghpur HEP, MPEB, Shedol in the year 1994.

(8) Tanakpur Hydro Electric Project : Year – 1991.
Service Back-up provided till 2006 and continued.

Measurement for Water Level and Displaying in Barrage Control Room complete with Remote control system for 22 nos. Barrage gates & 6 nos. Power Channel gates.
Some of the major projects where we have supplied our equipments are as under:
(1.) 14 Gates of Mahanadhi Project, Raipur, M.P.

(2.) 24 Gates of Behar Project, M.P.E.B(M.P)

(3.) 21 Gates of BargiReservoir Project, via. Jabalpur, M.P.

(4.) 8 Gates of Dev Project, via Halol, Gujarat

(5.) 13 Gates of Somsil Project, A.P.

(6.) 13 Gates of Som-Kamla Project, Rajasthan.

(7.) 13 Gates of Tawa Reservoir Project, Via . Itarsi, M.P

(8.) 18 Gates of Bisalpur Irrigation Project, Rajasthan.

(9.) 87 Gates for Sardar Sarovar, Narmada Main Canal from 13 Km to 263 Km.

(10.) 28 Gates of Tanakpur Barrage, NHPC, U.P.

(11.) 7 Gates for Owen Falls, Project, Uganda.

(12.) 9 gates of Kaka Saheb Gadgil Project, Mandsor, M.P
(13.) 10 Gates of Madikheda project, MP
(14.) 33 Gates Goshikurd Irrigation Project, Maharashtra
(15.) 12 Gates , AD Hydro , Himachal Pradesh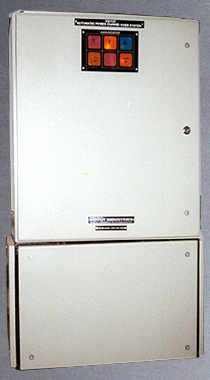 AUTOMATIC CHANGE OVER PANEL
FOR GENRATOR & MAINS POWER